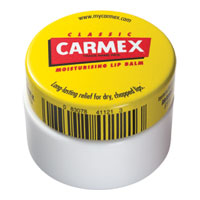 Classic Moisturising Lip Balm POT
Carmex | more info....
CX-115 | 7.5g Pot | £ 3.25 | Out of Stock
7.5g Pot
£ 3.25 | Out of Stock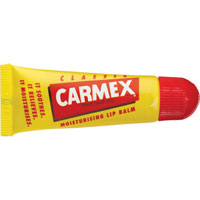 Classic Moisturising Lip Balm TUBE
Carmex | more info....
CX-OLBT | 10g tube | £ 2.70 | Out of Stock
10g tube
£ 2.70 | Out of Stock
include discontinued items

Carmex
For many years the best kept secret of models and make–up artists, Carmex lip balm is a top seller in the US where its no–nonsense appeal and effectiveness has earned it cult status. Celebrities don't leave home without it, and Sarah Jessica Parker and Kate Winslet swear by it.
The scent and packaging are completely unisex and with its distinctive retro packaging and trademark tingling sensation, this no–nonsense lip balm is a must have.
History
Invented in 1937 by Alfred Woelbing, literally on the family stovetop. For the next 20 years, Alfred and his wife made Carmex by hand and poured it into the familiar yellow-capped jars.
Eventually production moved out of the Woelbing home and into a rented facility in Wauwatosa, Wisconsin, where it remained until the move in 1975 to its current site in Franklin, Wisconsin.
Carma Labs employs about 100 people and is still owned and operated by the family: Alfred's grandsons Eric and Paul Woelbing. The Woelbing stove is now used for cooking things the family can actually eat!