include discontinued items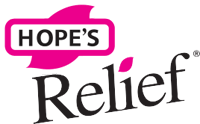 Hope's Relief
Therapeutic Skincare Treatment Range.
To help with dry skin conditions including eczema, psoriasis, dermatitis, itchy and sensitive skin.
Hope's relief cream was developed in response to the need for a natural effective alternative for relieving the symptoms of dry, itchy skin in children, babies, and adults.
The remarkable results have led to grateful testimonials from around the world.
Hope's Relief offer effective natural alternatives to other steroid based creams and lotions and can be used on babies, young children and adults for extended periods of time with no side effects.
The products are created from potent natural healing ingredients, free from artificial colours, perfumes and animal products.
They contains licorice, calendula, Manuka honey, aloe vera, and gotu kola, natural and organic ingredients.