include discontinued items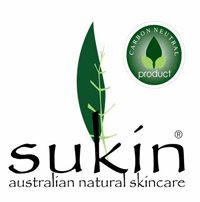 Sukin Organics
Australian natural skincare.
Skincare that doesn't cost the earth.
Sukin have rapidly grown to become Australia's favourite and best selling natural skincare brand due to the high efficacy and reliability of the products.
Their commitment to natural began with a simple list; what should never be found in your skincare? Sukin products therefore do not contain a myriad of harsh chemicals used in many products on the market today.
Instead, Sukin products are formulated with high efficacy, high quality botanical extracts and essential oils, carefully selected to bring out the best in your skin and hair.
They choose tried, tested and trusted ingredients for the products, and always use their staff as a trial panel before a product goes to market.
Free From
Sodium Lauryl/Laureth Sulphate, Synthetic Fragrances, Animal Derivatives, Mineral Oil, Propylene Glycol, Artificial Colours, Triethanolomine, EDTA, Parabens.
Australian owned & made.
100% Vegan
100% Carbon Neutral
No Animal Testing
Ingredients
They source only the best including cold-pressed, solvent free oils, essential oils and 100% natural botanical extracts which are of the highest grade, maximizing effectiveness and ensuring the purity of our product.
They preserve products only where necessary in the interest of human health and protection against contamination. All preservatives are included within recommended usage levels as outlined by the relevant parties in Australia, the US, EU and Japan, and all have long-proven safety records.
Further to this Sukin is a proud vegan brand, refraining from use of animal derivatives such as lanolin as well as animal by-products like honey and bees wax.
Achieving accreditation with the organisation Choose Cruelty Free (CCF), Sukin are now listed as Vegan and approved as an authorized 100% cruelty free company.