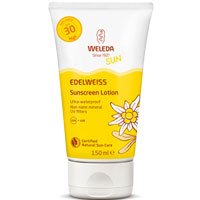 Edelweiss Sunscreen Lotion SPF30
Weleda | more info....
WL-1996 | 150ml tube | £ 23.95 | Out of Stock
150ml tube
£ 23.95 | Out of Stock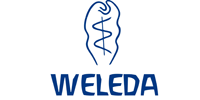 Sun Protection
In harmony with nature and the human being since 1921.
Active immediately upon application.
Suitable for sensitive skin types and delicate baby skin
100% certified natural.
The Edelweiss Sun Care range offers instant and the highest possible protection for the whole family whilst safeguarding skin health and the environment.
Containing non-nano mineral UV filters and inspired by the edelweiss flower and how it protects itself from the extreme sun in the Swiss mountains, all products are 100% certified natural.
About
What are mineral-based sunscreens?
Mineral-based sunscreens reflect the sun's rays to protect the skin from sunburn. They contain particles of minerals such as titanium dioxide and zinc oxide, which can be used in different sizes to physically block the sun's UV rays.
Why is natural protection visible?
These countless small mirrors - the mineral non-nano UV filters that reflect sunlight - are larger than 1 nanometre, and therefore visibly reflect sunlight. Weleda has deliberately refrained from using chemical or nano-sized UV filters and have developed mineral NATRUE-certified sunscreens to offer an alternative. So when mineral-based sunscreen is applied, it leaves a whitish sheen. The higher the sunscreen formulation's sun protection factor (SPF), the more prominently it whitens the skin.
For babies and toddlers – who should wear sunscreen with a high SPF – this effect is not necessarily a drawback: parents can immediately see whether their children still have enough sunscreen on their skin and spot the areas of the skin that have not yet been covered.
Weleda sunscreens are active immediately upon application, are waterproof and offer reliable and high UV protection -even for sensitive skin types and delicate baby skin.