Delray Beach Honey Exfoliating Body Scrub
---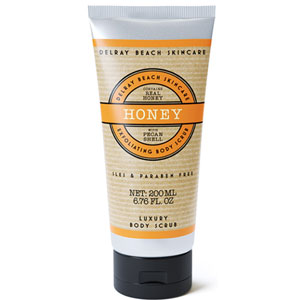 Delray Beach
Honey Exfoliating Body Scrub
200ml tube
£2.50 was £4.99 (save 50%)
Add to Basket
Catalog ref: DY-174
Description
Enjoy silky skin with Delray Beach Exfoliating Honey Body Scrub. Pecan shell offers a natural exfoliant to help remove impurities. Similarly, nourishing extracts including Shea Butter protect and care for skin.
Benefits
Botanically active ingredients leave your body nourished, lightly fragranced, and healthy.
Free From
Delray Beach is paraben and SLES free.
To Use
Apply to wet skin using circular motions. Rinse thoroughly.
Ingredients