Emani Sleep & Renew Overnight Serum
---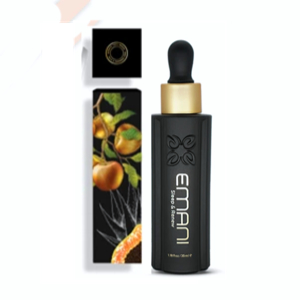 Emani
Sleep & Renew Overnight Serum
35ml dropper bottle
£55.00
Add to Basket
Catalog ref: EM-800
Key Info
Solutions for fine lines, wrinkles & dull skin.
Fortified with 86.5% Apple, Papaya & fermented Lactobacillus Concentrates.
Vegan
Skin Type: Acne-Prone, Normal, Oily, Combination, Dry
Description
Enhance your glow in your sleep with the free-radical fighting power of antioxidants and concentrated probiotics.
Sleep & Renew has activated nutrients to improve your skin - enhance its clarity, texture, and vitality while you sleep.
Infused with 86% fermented lactobacillus and powerful extracts to help promote oxygen uptake and boost collagen production for a youthful, vibrant complexion when you wake up.
This is a powerful skin-renewing serum with zero water content and infused with powerful concentrates to quickly flood your skin with nutrients for naturally vibrant skin. It assists the skin to retain moisture while its natural enzymes boost antioxidants that restore the skin and help combat fine lines and wrinkles. The fermentation breaks down the natural ingredients to give rise to new amino acids, organic acids, and antioxidants and increases bioavailability to load these active nutrients and minerals more rapidly and readily into your skin for hydrated, nourished skin.
These benefits work synergistically with one another to help your skin become healthier overall.
Benefits
Apple fruit extract provides vitamin C and other antioxidants to promote anti-aging
Papaya fruit and AHAs gently exfoliate the skin to slough off impurities
Vegan, non comedogenic formula
Formulated with a healthy pH balance in mind
Includes
Apple Extract
Papaya Extract
Aloe Vera Extract
Witch Hazel Extract
Licorice Root Extract
Free From
Petrochemicals, gluten, GMO's, preservatives, colourants, perfumes.
To Use
After cleansing and toning, apply 5-6 drops of Sleep & Renew onto your face and neck, gently massaging into the skin until fully absorbed, follow up with your moisturiser.
Important note: 5-30 minutes after application, your skin may feel tight, this is completely normal. This only means it is working, the Sleep & Renew quickly absorbs into skin and goes to work right away.
Optional: Apply 3-4 drops onto the chest and back of your hands as well, where signs of aging tend to appear first.
Ingredients