Green Products Moth Repellent
---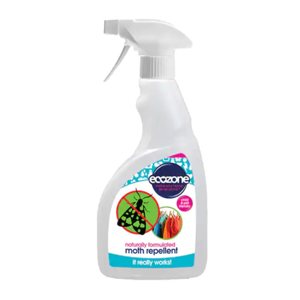 Key Info
Naturally Formulated
Child & Pet Friendly
It really works!
Description
A naturally formulated complex blend of essential oils that work to create a barrier and prevent moths settling on soft furnishings and fabrics. Just spray a fine mist around areas of worry and allow to dry. One application can provide up to two months' protection. Spray as often as daily if needed in case of a large infestation.
Benefits
Suitable for all fabrics
Instant long lasting protection
Safe and easy to use
Complete protection against moths.
Vegan
Includes
Cedar Oil
To Use
Spray at least 30cm away from the target area.
Spray a fine mist over affected areas and leave to dry completely.
Do not spray directly onto fabrics.
Repeat every 2 months
Ingredients
Recycling
Packaging – Recyclable
HDPE 2