Colibri Mini Cedarwood All Natural Wool Protector
---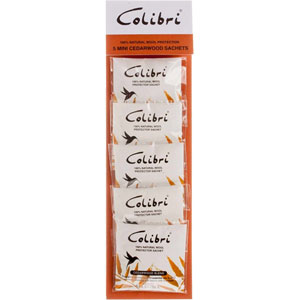 Colibri
Mini Cedarwood All Natural Wool Protector
£11.00
Add to Basket
Catalog ref: HM-2063
Key Info
Anti-moth Wool Protectors.
Presented in recycled cotton paper envelopes.
Avaialble in three sizes, mini, standard and hanging sachets.
Also in Lavender or Lemongrass.
Description
These sachets create a cocoon of natural protective fragrance which will keep wool, silk and other precious fabrics safe. At the same time the natural fragrance will keep them fresh.
They contain 100% pure botanical essences from Cedarwood, Eucalyptus, Vetiver, Peppermint, Clove and Lemongrass in a sandalwood powder base. all the sachets are hand produced and packed in a recycled cotton paper envelopes.
Use all year for maximum protection and replace every six months.
Includes
100% natural botanical essences from Vetiver, Clove, Eucalyptus and Cedarwood and others in a fine sandalwood powder base.
To Use
Just place in drawers, amongst woollens and hang in the wardrobe for year long protection from moths and also to prevent musty, stale odours.
Choose From
Cedarwood Drawer Sachets - Pack of 3 sachets.
Cedarwood Mini Sachets - Pack of 5 sachets.
Cedarwood Hanging Sachet - Single sachet.